Felder Rushing's Slow Gardening
is a broadly informative book that echoes my personal philosophy of gardening: don't worry about perfection, just get out there and do it. The book is chock full of pictures and explains the basics in a thorough, enjoyable way.
Beyond that, the book takes a conversational approach. Rushing doesn't lay out rules, he takes a gentle, encouraging approach, telling the us to get into the dirt and explore the life around us. He guides you through the seasons with an emphasis on enjoying each and every moment rather than getting bogged down with spring preparations. Don't get caught up in trying to make sure every last detail is right, just enjoy the details for what they are! There are creative ideas for recycling and reuse in the garden, plants to grow, and plants you can usually find for free. (Just make friends with other gardeners!)
If you need step-by-step guidance, this book isn't for you. If you want a diving board into the pool of gardening joys, this is the go-to guide you've been looking for.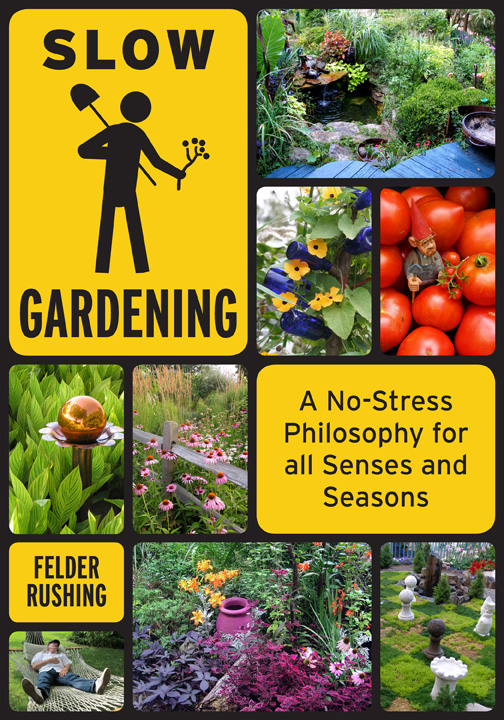 I have my review copy of the book to do a quick, one-day giveaway open to residents of North America, only. (Unless you want to pay shipping, 'cause that gets too expensive for me.) How do you enter to win? Comment below--do you take a slow approach to gardening? Are you a new gardener and need a little guidance? Just tell me a little about your gardening self. I'll draw a winner tomorrow at noon!
PS Don't forget to include an email address
or link in your comment so I can get in touch with you if you win!