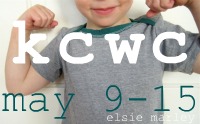 It's Kids Clothes Week and
this blog has a great list of tutorials
to try.
What
is the Kids Clothes Week Challenge?
Want to join? Go to
Elsie Marley's blog and sign up
, join
the flickr group
if you want to show off your creations, and dust off the ol' sewing machine!
I cheated and started yesterday because I have to take time when I can find it. Using the "It's Mother's Day and I want to sew" excuse helped me get the time to do it, though. Here's what I made: a
Prudent Baby
wrap dress
in a cherry print with a gingham skirt. The fabric is from
the same batch as this dress
; there are so many great fabrics in that batch that I'm eager to make more more more cute pieces for little M and I won't have to fork over any money for materials.
I should've done it with snaps like they suggest, but couldn't find any snaps and when time is limited you just have to go with the supplies on hand. Buttons, I've got lots of cool, old, pretty buttons so I used those. I'd show you the button holes, but these button holes are actually way worse than the first button holes I ever made, so don't look closely. Just look at M's cute little face and then glance at the dress.